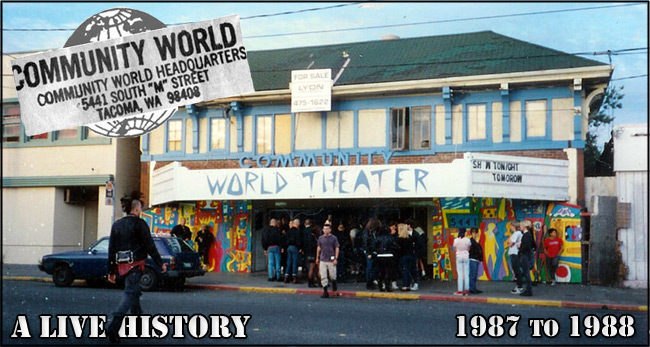 10/31/87
Bands

The Walkabouts • Danger Bunny* • Eastern Star*
unknown shows / recordings
Danger Mouse • To Damascus: On the tape it sounds like Danger Mouse were supposed to be playing with a band named To Damascus, but they didn't show up, so the band played a 90 minute set. This is possibly from early March of 1988.

Forced Entry • Hester Pryne: On side A of the Nirvana 03/19/88 tape. Possibly took place shortly before the Nirvana gig.

unknown band: On side B of the 12/19/87 Steel Pole Bath Tub tape.
Contributors
Kimi Arizona • Thomas Blessing • Scotty Brownwood • Raegan Butcher • Neko Case • Flash Connel • Danny Darst • Mikey Dees • Jack Endino • Dan Englund • Jonathas Formagio • Nancy Gleason • Helen Halloran • Avery Holmes • Holly Homan • Jeff Kildahl • Mimi MacKay • James Maeda • Tracy Marander • Jim May • Michelle Noel • Cort Ockfen • Bob Peterson • Bruce Purkey • John Purkey • Darcy Rant • George Reber • Megan Shea • David Vaughn • Nate Waldren • Bon Von Wheelie • Jerry Zeigler
Submit calendars, flyers, reviews, information, corrections, etc..

Also be sure to check out the Facebook fan page!

Copyright © 2007-2020 Mike Ziegler. All rights reserved.